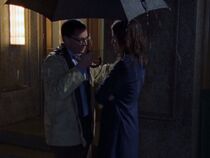 "The Local Weather"
"The Local Weather" is the fifteenth episode of the second season and the thirty eighth episode of the series overall. It originally aired on March 7, 2000. The teleplay was written by Aaron Sorkin from a story he co-wrote with Pete McCabe and directed by Timothy Busfield.
Dan decides to skip his therapy appointment, but spends the entire length of a normal appointment in his therapist's office explaining why. Jeremy e-mails Jenny to apologize for blowing her off, but then meets up with her in person only to explain why he's not going to see her again. Casey tries to bribe the gang to watch a track and field event with him in the middle of the night.
Production
Edit
Starring
Special guest star
Guest starring
Co-starring
Opening Credits
Ron Howard - Executive Producer
Tony Krantz - Executive Producer
Aaron Sorkin - Executive Producer
Rob Scheidlinger - Executive Producer
Thomas Schlamme - Executive Producer
Aaron Sorkin - Teleplay
Pete McCabe and - Story
Aaron Sorkin - Story
Closing credits
References
Edit
Ad blocker interference detected!
Wikia is a free-to-use site that makes money from advertising. We have a modified experience for viewers using ad blockers

Wikia is not accessible if you've made further modifications. Remove the custom ad blocker rule(s) and the page will load as expected.