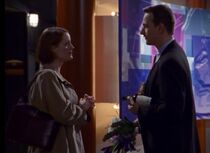 "Ten Wickets"
"Ten Wickets" is the twenty first episode of the first season and the twenty first episode of the series overall. It originally aired on April 13, 1999. It was written by Aaron Sorkin & Matt Tarses and directed by Robert Berlinger.
A cricket player in India has taken all ten wickets in an innings. It is a major story, and the team is willing to cover it on the show except they don't know what it means. Casey's been making Jerry Falwell jokes on the air ever since the bomb threat and Dana wants him to knock it off. Rebecca tells Dan she wants to go back to her husband.
Production
Edit
Starring
Guest starring
Opening Credits
Aaron Sorkin - Creator
Brian Grazer - Executive Producer
Ron Howard - Executive Producer
Tony Krantz - Executive Producer
Aaron Sorkin - Executive Producer
Rob Scheidlinger - Executive Producer
Thomas Schlamme - Executive Producer
Tracey Stern - Producer
Rachel Sweet - Producer
John Amodeo - Produced by
Aaron Sorkin - Teleplay
Matt Tarses - Story
Robert Berlinger - Director
Closing credits
References
Edit
Ad blocker interference detected!
Wikia is a free-to-use site that makes money from advertising. We have a modified experience for viewers using ad blockers

Wikia is not accessible if you've made further modifications. Remove the custom ad blocker rule(s) and the page will load as expected.