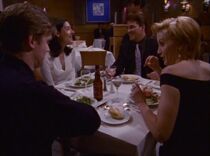 "Small Town"
"Small Town" is the thirteenth episode of the first season and the thirteenth episode of the series overall. It originally aired on January 12, 1999. It was written by Paul Redford & Aaron Sorkin and directed by Thomas Schlamme.
Natalie is in the producer's chair for the night when Dana, Gordon, Casey and a woman from Gordon's office go on a double-date. When a rumor about a major player trade starts filtering through the gossip mill, the production staff scrambles to land an exclusive scoop. Dan has to contend with fill-in co-anchor Bobbi Bernstein (Lisa Edelstein), who claims that Dan once had sex with her in a hotel in Spain.
Production
Edit
Starring
Guest starring
Co-starring
Lisa Welti as a Redhead
Brett Barrett as a Waiter
Uncredited
Aaron Sorkin as a Bar Patron
Opening Credits
Aaron Sorkin - Creator
Brian Grazer - Executive Producer
Ron Howard - Executive Producer
Tony Krantz - Executive Producer
Aaron Sorkin - Executive Producer
Rob Scheidlinger - Executive Producer
Thomas Schlamme - Executive Producer
Tracey Stern - Producer
Rachel Sweet - Producer
John Amodeo - Produced by
Paul Redford - Writer
and Aaron Sorkin - Writer
Thomas Schlamme - Director
Closing credits
References
Edit
Ad blocker interference detected!
Wikia is a free-to-use site that makes money from advertising. We have a modified experience for viewers using ad blockers

Wikia is not accessible if you've made further modifications. Remove the custom ad blocker rule(s) and the page will load as expected.