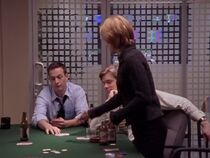 "Shoe Money Tonight"
"Shoe Money Tonight" is the tenth episode of the first season and the tenth episode of the series overall. It originally aired on December 8, 1998. It was written by Aaron Sorkin and directed by Dennie Gordon.
Another anchor team's flight is grounded in Pittsburgh, forcing Casey and Dan to stay at work instead of taking a planned weekend trip to Atlantic City — but they turn disappointment into opportunity, challenging the rest of the team to an office poker night.
Production
Edit
Starring
Guest starring
Kayla Blake as Kim
Co-starring
Ron Ostrow as Will
Jeff Mooring as Dave
Opening Credits
Aaron Sorkin - Creator
Brian Grazer - Executive Producer
Ron Howard - Executive Producer
Tony Krantz - Executive Producer
Aaron Sorkin - Executive Producer
Rob Scheidlinger - Executive Producer
Thomas Schlamme - Executive Producer
Lynn Siefert - Consulting Producer
Tracey Stern - Producer
Rachel Sweet - Producer
John Amodeo - Produced by
Aaron Sorkin - Writer
Dennie Gordon - Director
Closing credits
References
Edit
Ad blocker interference detected!
Wikia is a free-to-use site that makes money from advertising. We have a modified experience for viewers using ad blockers

Wikia is not accessible if you've made further modifications. Remove the custom ad blocker rule(s) and the page will load as expected.