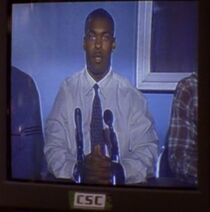 Roland Shepard
Roland Shepard is a minor character in the first season of Sports Night. He is played by co-star Doyle Holmon and debuts in "The Six Southern Gentlemen of Tennessee". He is a college football player.
Biography
Edit
He organizes a player walkout because his college flies the confederate flag outside their stadium. Sports Night runs a feature on the story.[1]
Appearances
Edit
Season one appearances
"Pilot"
"The Apology"
"The Hungry and the Hunted"
"Intellectual Property"
"Mary Pat Shelby"
"The Head Coach, Dinner and the Morning Mail"
"Dear Louise"
"Thespis"
"The Quality of Mercy at 29K"
"Shoe Money Tonight"
"

The Six Southern Gentlemen of Tennessee

"
"Smoky"
"Small Town"
"Rebecca"
"Dana and the Deep Blue Sea"
"Sally"
"How Are Things in Glocca Morra?"
"The Sword of Orion"
"Eli's Coming"
"Ordnance Tactics"
"Ten Wickets"
"Napoleon's Battle Plan"
"What Kind of Day Has it Been?"
References
Edit