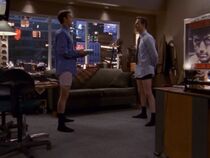 "Napoleon's Battle Plan"
"Napoleon's Battle Plan" is the twenty second episode of the first season and the twenty second episode of the series overall. It originally aired on April 27, 1999. It was written by Aaron Sorkin and directed by Robert Berlinger.
Gordon has proposed to Dana. Casey's response is to follow Napoleon's battle plan ("Show up, and see what happens"), but Dan isn't sure that's a good idea: Napoleon lost, after all. Dana, for her part, sublimates her mixed feelings about Gordon's proposal into obsessing over a camera. When she finally finds out that Gordon and Casey both slept with Sally, she's more upset about Casey.
Production
Edit
Starring
Guest starring
Co-starring
Darren Foreman as the Waiter
Laura Elizabeth Ford as the Waitress
Opening Credits
Aaron Sorkin - Creator
Brian Grazer - Executive Producer
Ron Howard - Executive Producer
Tony Krantz - Executive Producer
Aaron Sorkin - Executive Producer
Rob Scheidlinger - Executive Producer
Thomas Schlamme - Executive Producer
Tracey Stern - Producer
Rachel Sweet - Producer
John Amodeo - Produced by
Aaron Sorkin - Teleplay
Matt Tarses - Story
Robert Berlinger - Director
Closing credits
References
Edit
Ad blocker interference detected!
Wikia is a free-to-use site that makes money from advertising. We have a modified experience for viewers using ad blockers

Wikia is not accessible if you've made further modifications. Remove the custom ad blocker rule(s) and the page will load as expected.