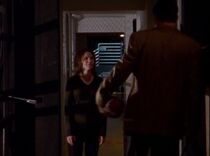 "Mary Pat Shelby"
"Mary Pat Shelby" is the fifth episode of the first season and the fifth episode of the series overall. It originally aired on October 20, 1998. It was written by Tracey Stern & Aaron Sorkin and directed by Thomas Schlamme.
The team tries to score an exclusive interview with Christian Patrick, a football player who's under investigation for sexually assaulting his ex-girlfriend, but Patrick's agent will only grant the interview if the assault allegation is off limits. Natalie is sent to conduct a pre-interview with him, but comes back with an injured wrist. All hell breaks loose when the team learns that a stadium employee saw Patrick physically attack a female sports reporter in the locker room.
Production
Edit
Starring
Guest starring
Co-starring
Jeff Mooring as Dave
Ron Ostrow as Will
Opening Credits
Aaron Sorkin - Creator
Brian Grazer - Executive Producer
Ron Howard - Executive Producer
Tony Krantz - Executive Producer
Aaron Sorkin - Executive Producer
Rob Scheidlinger - Executive Producer
Thomas Schlamme - Executive Producer
Jeff Lowell - Co-executive Producer
Matt Berry - Consulting Producer
Ric Swartzlander - Consulting Producer
Tim Doyle - Consulting Producer
Lynn Siefert - Consulting Producer
Tom Brady - Consulting Producer
Tracey Stern - Producer
Rachel Sweet - Producer
John Amodeo - Produced by
Tracey Stern - Writer
and Aaron Sorkin - Writer
Thomas Schlamme - Director
Closing credits
References
Edit
Ad blocker interference detected!
Wikia is a free-to-use site that makes money from advertising. We have a modified experience for viewers using ad blockers

Wikia is not accessible if you've made further modifications. Remove the custom ad blocker rule(s) and the page will load as expected.