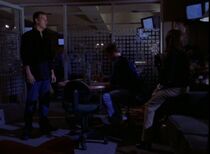 "Kafelnikov"
"Kafelnikov" is the fifth episode of the second season and the twenty eighth episode of the series overall. It originally aired on November 2, 1999. It was written by Matt Tarses & Bill Wrubel and directed by Robert Berlinger.
After meeting an attractive woman (Jayne Brook) and learning that she's a psychologist, Dan obsesses over whether she was interested in dating him or taking him on as a therapy client. Jeremy accidentally blacks out the entire studio while trying to run Y2K tests on the production board.
Production
Edit
Starring
Guest starring
Co-starring
Opening Credits
Aaron Sorkin - Creator
Brian Grazer - Executive Producer
Ron Howard - Executive Producer
Tony Krantz - Executive Producer
Aaron Sorkin - Executive Producer
Rob Scheidlinger - Executive Producer
Thomas Schlamme - Executive Producer
Kevin Falls - Co-executive Producer
Matt Tarses - Producer
David Walpert - Co-producer
John Amodeo - Supervising Producer
Matt Tarses & - Writer
Bill Wrubel - Writer
Robert Berlinger - Director
Closing credits
Bonnie Zane - Casting
Paula Rosenberg - Casting
Bruce Chevillat - Co-producer
Stephen Putnam - Associate Producer
Bill Wrubel - Executive Story Editor
Peter Smokler - Director of Photography
Theo E. Azzari - Production Designer
Janet Ashikaga - Editor
Bruce Chevillat - Unit Production Manager
Keri McIntyre - First Assistant Director
Shawn Hanley - Second Assistant Director
W.G. Snuffy Walden - Music
References
Edit
Ad blocker interference detected!
Wikia is a free-to-use site that makes money from advertising. We have a modified experience for viewers using ad blockers

Wikia is not accessible if you've made further modifications. Remove the custom ad blocker rule(s) and the page will load as expected.