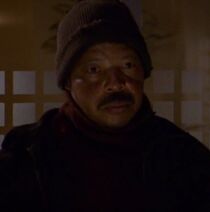 Homeless man
A Homeless man is an unnamed minor character in the first season of Sports Night. He is played by guest star Felton Perry and only appears in "The Quality of Mercy at 29K".
Biography
Edit
He sneaks into the Sports Night offices when security staff clear the homeless out of the CSC building lobby. Sports Night anchor Dan Rydell finds him hiding in his office. He is initially startled but then offers him a turkey sandwich. Dan is afraid when he pulls a switchblade but he just uses it to share the sandwich. They watch climbers reaching the summit of Mount Everest together.[1]
Appearances
Edit
Season one appearances
"Pilot"
"The Apology"
"The Hungry and the Hunted"
"Intellectual Property"
"Mary Pat Shelby"
"The Head Coach, Dinner and the Morning Mail"
"Dear Louise"
"Thespis"
"

The Quality of Mercy at 29K

"
"Shoe Money Tonight"
"The Six Southern Gentlemen of Tennessee"
"Smoky"
"Small Town"
"Rebecca"
"Dana and the Deep Blue Sea"
"Sally"
"How Are Things in Glocca Morra?"
"The Sword of Orion"
"Eli's Coming"
"Ordnance Tactics"
"Ten Wickets"
"Napoleon's Battle Plan"
"What Kind of Day Has it Been?"
References
Edit