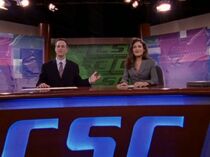 "Eli's Coming"
"Eli's Coming" is the nineteenth episode of the first season and the nineteenth episode of the series overall. It originally aired on March 30, 1999. It was written by Aaron Sorkin and directed by Robert Berlinger.
Dan's having a truly horrible day: first he sees Rebecca talking to her ex-husband, and then Bobbi Bernstein's back again to cover a college basketball event. The team is worried when they don't hear from Isaac long after his flight from London lands. They eventually find out that Isaac had a stroke.
Production
Edit
Starring
Guest starring
Co-starring
Opening Credits
Aaron Sorkin - Creator
Brian Grazer - Executive Producer
Ron Howard - Executive Producer
Tony Krantz - Executive Producer
Aaron Sorkin - Executive Producer
Rob Scheidlinger - Executive Producer
Thomas Schlamme - Executive Producer
Tracey Stern - Producer
Rachel Sweet - Producer
John Amodeo - Produced by
Aaron Sorkin - Writer
Robert Berlinger - Director
Closing credits
References
Edit
Ad blocker interference detected!
Wikia is a free-to-use site that makes money from advertising. We have a modified experience for viewers using ad blockers

Wikia is not accessible if you've made further modifications. Remove the custom ad blocker rule(s) and the page will load as expected.