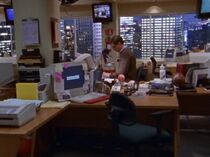 "Dear Louise"
"Dear Louise" is the seventh episode of the first season and the seventh episode of the series overall. It originally aired on November 10, 1998. It was written by Aaron Sorkin and directed by Thomas Schlamme.
Jeremy writes a letter to his sister Louise, describing a day in the office. Dan struggles with writer's block and Natalie tries to help him by acting as if it were the hiccups. Isaac is unhappy that his teenage daughter is dating a young Republican.
Production
Edit
Starring
Guest starring
Kayla Blake as Kim
Co-starring
Opening Credits
Aaron Sorkin - Creator
Brian Grazer - Executive Producer
Ron Howard - Executive Producer
Tony Krantz - Executive Producer
Aaron Sorkin - Executive Producer
Rob Scheidlinger - Executive Producer
Thomas Schlamme - Executive Producer
Lynn Siefert - Consulting Producer
Tracey Stern - Producer
Rachel Sweet - Producer
John Amodeo - Produced by
David Walpert - Writer
and Aaron Sorkin - Writer
Thomas Schlamme - Director
Closing credits
References
Edit
Ad blocker interference detected!
Wikia is a free-to-use site that makes money from advertising. We have a modified experience for viewers using ad blockers

Wikia is not accessible if you've made further modifications. Remove the custom ad blocker rule(s) and the page will load as expected.