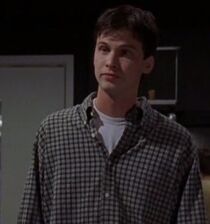 Corbin
Corbin is a minor character in the second season of Sports Night. He is played by guest star Charlie Finn and only appears in "Special Powers". He is an Intern for Sports Night.
Biography
Edit
His cousins J.J. works for the CSC network and gets him an intern position at Sports Night. He performs poorly and Natalie Hurley orders Jeremy Goodwin to fire him. Jeremy decides to give him another chance. Corbin's disinterested attitude is unchanged and Jeremy does eventually fire him when he insults Natalie.[1]
Appearances
Edit
Season two appearances
"Special Powers"
"When Something Wicked This Way Comes"
"Cliff Gardner"
"Louise Revisited"
"Kafelnikov"
"Shane"
"

Kyle Whitaker's Got Two Sacks

"
"The Reunion"
"A Girl Named Pixley"
"The Giants Win the Pennant, the Giants Win the Pennant!"
"The Cut Man Cometh"
"The Sweet Smell of Air"
"Dana Get Your Gun"
"And the Crowd Goes Wild"
"Celebrities"
"The Local Weather"
"Draft Day: Part I It Can't Rain at Indian Wells"
"Draft Day: Part II The Fall of Ryan O'Brian"
"April Is the Cruelest Month"
"Bells and a Siren"
"La Forza del Destino"
"Quo Vadimus"
References
Edit
Ad blocker interference detected!
Wikia is a free-to-use site that makes money from advertising. We have a modified experience for viewers using ad blockers

Wikia is not accessible if you've made further modifications. Remove the custom ad blocker rule(s) and the page will load as expected.