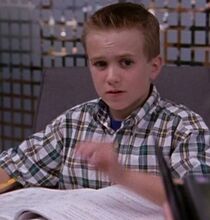 Charlie McCall
Charlie McCall is a minor character in the first season of Sports Night. He is played by guest star Cory Buck and only appears in "What Kind of Day Has it Been?". He is the only child of Lisa and Casey McCall.
Biography
Edit
Background
Edit
Casey and Lisa have separated shortly before the series begins. Charlie lives with his mother.[1]
Charlie lies to Casey about his performance in baseball, fearing that Casey will be disappointed in him for not being a natural talent. Charlie's new nanny Holly brings him to see his father. Dan Rydell realizes that Charlie has been telling Casey statistics that he has heard them announce on the show. Casey reassures Charlie that he will never be disappointed in him.[2]
Appearances
Edit
Season one appearances
"Pilot"
"The Apology"
"The Hungry and the Hunted"
"Intellectual Property"
"Mary Pat Shelby"
"The Head Coach, Dinner and the Morning Mail"
"Dear Louise"
"Thespis"
"The Quality of Mercy at 29K"
"Shoe Money Tonight"
"The Six Southern Gentlemen of Tennessee"
"Smoky"
"Small Town"
"Rebecca"
"Dana and the Deep Blue Sea"
"Sally"
"How Are Things in Glocca Morra?"
"The Sword of Orion"
"Eli's Coming"
"Ordnance Tactics"
"Ten Wickets"
"Napoleon's Battle Plan"
"

What Kind of Day Has it Been?

"
References
Edit
Ad blocker interference detected!
Wikia is a free-to-use site that makes money from advertising. We have a modified experience for viewers using ad blockers

Wikia is not accessible if you've made further modifications. Remove the custom ad blocker rule(s) and the page will load as expected.