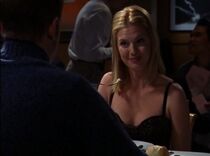 "A Girl Named Pixley"
"A Girl Named Pixley" is the ninth episode of the second season and the thirty second episode of the series overall. It originally aired on December 28, 1999. It was written by David Walpert and directed by Dennie Gordon.
Jeremy is nominated for a sports journalism award that Natalie knows he's not going to win. After fighting Dana's dating plan, Casey finally goes out on a date with a girl named Pixley, and Dana begins to have second thoughts.
Production
Edit
Starring
Guest starring
Co-starring
Darren Foreman as a Waiter
Opening Credits
Aaron Sorkin - Creator
Brian Grazer - Executive Producer
Ron Howard - Executive Producer
Tony Krantz - Executive Producer
Aaron Sorkin - Executive Producer
Rob Scheidlinger - Executive Producer
Thomas Schlamme - Executive Producer
Kevin Falls - Co-executive Producer
Matt Tarses - Producer
David Walpert - Co-producer
John Amodeo - Supervising Producer
David Walpert - Writer
Dennie Gordon - Director
Closing credits
Bonnie Zane - Casting
Paula Rosenberg - Casting
Bruce Chevillat - Co-producer
Stephen Putnam - Associate Producer
Bill Wrubel - Executive Story Editor
Peter Smokler - Director of Photography
Theo E. Azzari - Production Designer
Janet Ashikaga - Editor
Bruce Chevillat - Unit Production Manager
Shawn Hanley - First Assistant Director
Kristi "Kat" Antunovich - Second Assistant Director
W.G. Snuffy Walden - Music
References
Edit
Ad blocker interference detected!
Wikia is a free-to-use site that makes money from advertising. We have a modified experience for viewers using ad blockers

Wikia is not accessible if you've made further modifications. Remove the custom ad blocker rule(s) and the page will load as expected.